Restoring Homes. Touching Lives.
Hearts & Hammers is on a mission to keep people in the homes they love. Serving the Twin Cities, MN and Dallas, TX communities.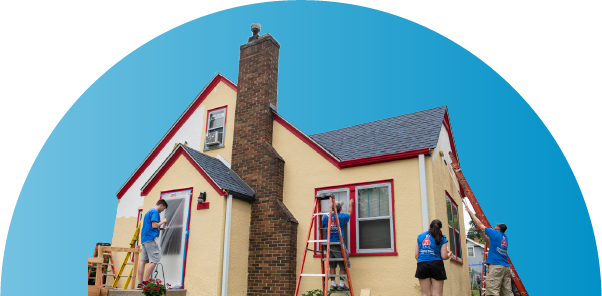 Hearts & Hammers assists low-income homeowners struggling with deteriorating home exteriors. Often these neighbors face the reality of losing the place they love. We provide free exterior restorations to keep that from happening.
The Hearts & Hammers Mission
To provide exterior home improvement assistance for Senior Citizens, Disabled Individuals, and Veterans of the United States Armed Forces or their Surviving Spouse so that they may continue living independently.

In 1986, Peace Corps volunteer and architect Bob Walker, along with a group of fellow Peace Corps volunteers, sought a social activity that utilized their experiences for the benefit of the community. They began by refurbishing an elderly minister's home right in their town of Dallas. The next year, they tackled nine more homes. Soon after, Hearts & Hammers was born. Following his 1997 relocation to the Twin Cities, Mr. Walker created the Minnesota chapter of Hearts & Hammers, which continues to expand its work annually.
We are proud to report that Hearts & Hammers has grown from one home painted by twenty-four volunteers to thousands of volunteers who have refurbished thousands of homes across the Twin Cities and Dallas. 
In a time when affordable housing is reaching a crisis level, we provide home rehabilitation for naturally occurring affordable housing for those who have difficulty performing the task or simply cannot afford it.

Hearts & Hammers has restored over 8,500 homes in the Twin Cities metro area and Dallas since 1986! 
There really is
no

place like home.
Whether you're a homeowner looking to apply, a volunteer who needs guidance - we can help!
We wouldn't be here without our Hearts & Hammers Board of Directors and Leadership Staff.
Joe Pritzkow | Chair | Mortenson Construction
Karen Bach | Vice Chair | Retired – Phillips & Temro Industries
Tony Yankauskas | Treasurer | CMA
Randi Prebil | Executive Director
Claudia Boysen | Executive Admin
Ashlyn Ottersbach | Program Director- Dallas
Board of Directors at Large
Charles Campion |  Final Coat Painting
Elling Olson |  Tindol Construction
Josh Carr | Kraus-Anderson Construction
Sakura Rudart | Target Corporation
Brent Webb | Mortenson Construction
Sean Carney | Bell Bank
Max Romanaggi | UnitedHealth Group
Michelle Montes | Emerson
Samuel Verduci | Tennant Company